home > features > online bookings & enquiries
Take online bookings and enquiries
Introducing the TourCMS booking engine
TourCMS allows you to quickly and easily add online booking functionality to your existing website (or a new website built using TourCMS's Web design & CMS functionality).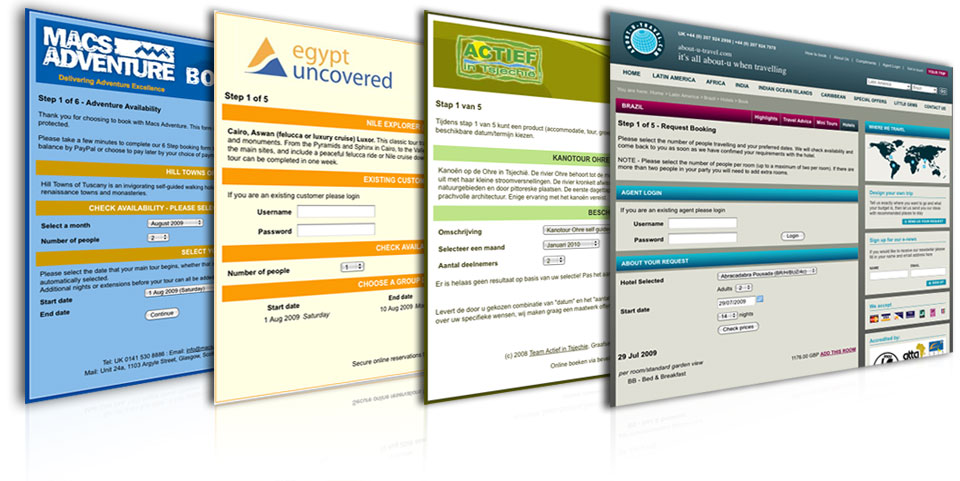 Any of the tours and other travel products that TourCMS supports can be made available to book on your website just by ticking a box and adding a link. As the online booking engine uses live availability information you can be safe in the knowledge that slots or rooms will be allocated correctly, with tours switching to "Call for availability" or "Full" based on capacity limits that you configure.
Flexible integration
You do not have to use the full TourCMS online booking functionality. There are 4 types of online booking integration that you may wish to consider for your website:
No online booking integration - just use TourCMS as a backend reservation system for staff and agency-created bookings
Standard booking engine - a basic booking engine that takes about 5 minutes to set up and can be added to any website just by adding a fixed URL (per tour). As the wording is fully configurable the booking engine can be used to take either full confirmed bookings or initial quote requests.
Enquiry form - instead of taking online bookings (or quote requests) - add a form to your website for example to receive tailor-made tour requests. An enquiry form creates a customer record and an enquiry, but no booking record. These enquiries are all tracked within TourCMS
Configuration rich, sensible defaults
In addition to control of the visual design of the TourCMS booking engine you can configure the text at each step, add your own guidance notes or disclaimers. Choose whether to take just basic contact details at the time of booking, or request more information like dates of birth, passport details, dietary requirements, emergency contacts and your own custom passenger or booking fields (meal choice, vegetarian, pick up location, etc) saving on admin time post booking.

While the booking engine has all of these options; like most other parts of TourCMS everything is already configured with "sensible defaults" to allow you can get up and running as quickly as possible - just tweak anything that isn't quite to your liking.
The booking engine is hosted on TourCMS infrastructure (meaning you don't have to buy expensive, secure, hosting or an SSL certificate). You can hide the TourCMS website address (URL) using an IFRAME.
The TourCMS booking engine supports 22+ languages (further details)