home > support > solution library > tailor made tours
Tailor made tours
These style of products tend to be created "ad-hoc" depending upon customer requirements, and generally require some kind of staff input to ensure the booking is OK
The basics
Firstly we have *ALOT* of tailor-made tour companies using TourCMS to take requests and manage subsequent bookings. They work in a variety of ways depending upon their own requirements and existing business processes and there is no set, or right, way of handling tailor made bookings. (There are a few wrong ways though!)
Very important to get your customer interacting at some point with you ONLINE (rather than via email / telephone) because then you can automatically capture information about where they heard about you (e.g. which online advert produced that lead). Also it is more efficient if they enter their name / address etc rather than you doing that (will save you a few minutes but will also reduce errors)
The web is a great place to promote products but not so great to promote services - i.e. if you can sell almost anything in your own destination and you just say that on your website - you won't get too many people contacting you. Instead you need to create sample itineraries which people can use as the basis of their conversation with you
Consider whether to involve the TourCMS booking engine at the start or at the end of a conversation with your customer - for example you could use it at the start - ask people to fill in a "quote request" or similar (which would be the TourCMS booking engine but using different text) - then, once received in the system, you can start to build up a quote / potential booking - based on their requirements. Alternatively you could have the conversation via email / telephone and then, at the end of the call, suggest to the customer that they go online and make the booking
The TourCMS booking engine
You can rename the text in the booking engine and use it for "quote requests" instead. If you are taking this approach there is no need to add a payment gateway into the booking process, you can collect payment details later.
The great advantage of using a booking engine (rather than a plain contact us form) is that you get a date specific / product specific request. This makes your job much easier to pitch back a suitable itinerary as you know roughly what they want in the first place.
How you could show dates on your website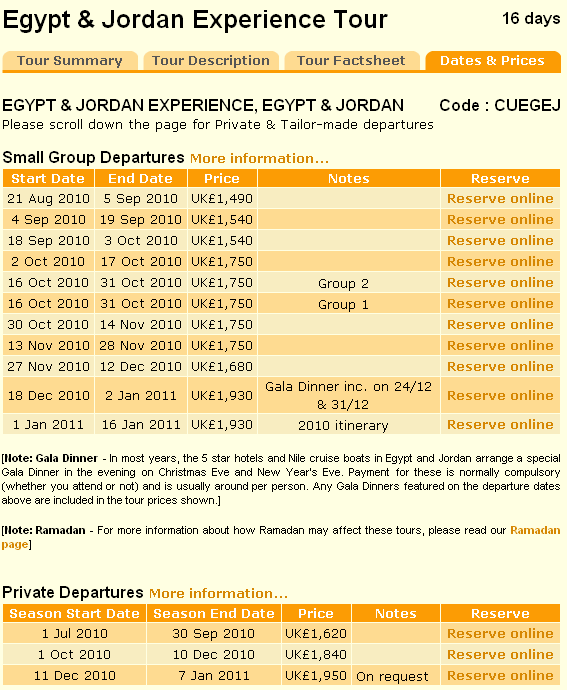 The dates & prices page above is from a tailor-made tour company operating in Egypt.
They have on the same page a list of group tours (using
tour departures
in TourCMS) and below some seasons for what they refer to as Private Departures (This uses
tour freesale
as the date type). In TourCMS a single tour (effectively an itinerary) can have both departures and freesale giving you total flexibility on running both styles at the same time.
You can see that the freesale season length is many months long. The departure dates are individual dates that have pre-generated prices. Even if you are not providing a tour leader you can create some sample dates as it gives people an understanding as to what might work (especially if there are certain dates that have different prices due to demand or some event going on in that destination). No need to though and you could just use the tour freesale functionality.
On the next step of the booking engine, when a tour freesale, the customer can pick dates from within the loaded season. The TourCMS software will stop the customer from picking a date that doesn't work. It will then create an appropriate base price from the customer selection: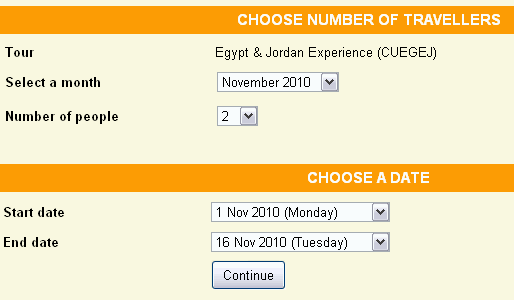 Then, on the next step, you can let the customer select various upgrades or other selections. Inside TourCMS these are configured as
options
: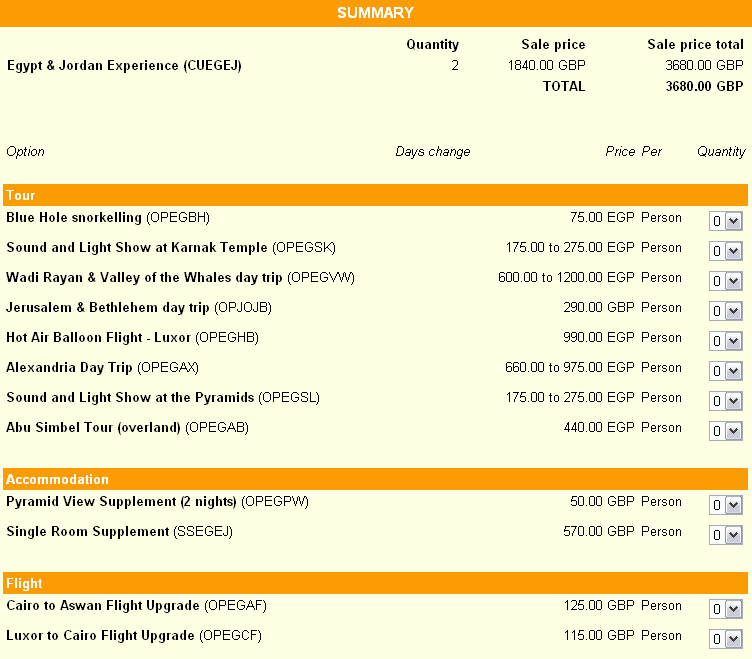 You now should have a great basis of a tailor-made tour request from a customer including dates, number of people, what itinerary they are interested in plus any upgrades.
How to adjust dates
Once you have received a booking (or quote request) you can easily (on a tour freesale) change the dates the customer initially requested.
On a tour departure (a fixed date trip) you can change the overall booking dates by adding extensions at either end of the booking. Extensions should be configured using options.
Other tricks of the trade
Inside an individual booking you can change prices of any component for that individual booking. This makes it easy to create a custom price for a customer. There is also the ability to change all your prices at once (on a booking)
You can load cost prices in TourCMS and markup by a % to generate sale prices (if you go to money section in Channel Manager, you can change that setting there. By default TourCMS sells based on your loaded sale prices)
Each component in a booking (tour, option, hotel etc) can have their name changed within an individual booking. If you are using 1 of 100 hotels in a region you don't have to load all 100 into TourCMS. Just load a single hotel and change the name to that hotel later
You can change the name of the booking (top right in booking edit) - so you could make it "Mr Smith's trip to Spain" (or something better!)
On the money tab (in an individual booking) if you have loaded costs and sale prices you can see how much money you are making per booking. You could set a guideline to your staff to say - never make less than 15%. This makes it easier to set tailor-made prices without underpricing accidentally
Generating new booking sources
One of the advantages of creating sample itineraries is that you can them market them just like fixed group tours.
For example with TourCMS you can distribute your products via the
TourCMS Marketplace
and create
widgets
to feature your "products" on partner websites.
Efficiency vs automation
Key to using a reservation system (not just TourCMS) for tailor made tours is automation vs efficiency. You CAN pre-configure all your tours, hotels & other components BEFORE bringing them (manually) into a booking. This will take time (upfront) but make the booking creation process less error prone (and quicker). Ideal if you have many staff constantly creating tailor-made tours - BUT probably not going to give you return on investment (time spent) if you are just 1 or 2 people in your team.
Instead, create the itinerary IN THE NOTES in TourCMS - not by adding indivdual line item components. Each day can be 1 line. This is easy to communicate to suppliers & customers - and takes less time to setup at the beginning.