home > features > case studies > Uncover the World
Uncover the World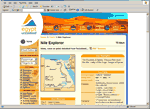 UK based tour operator offering cultural & adventure holidays in Egypt, Thailand and Nepal.
Uncover the World are a UK based tour operator offering cultural & adventure holidays in Egypt, Nepal and Thailand. They first went online becoming brochureless in 2000. Since then, on an annual basis, over 75% of all bookings have come from online advertising and other online sources.
The challenge
The challenge set by Uncover the World is to run multiple niche websites but with central bookings administration. Having tours for sale in Egypt, Nepal and Thailand has meant launching 3 websites -
Nepal Uncovered
,
Egypt Uncovered
and
Thailand Uncovered
as well as a global site containing all tours (
Uncover the World.travel
)
The result
Using TourCMS all sites can be managed centrally using a single website content management system. Additionally, site branded online booking engines have been put in place ensuring that from a customer perspective they deal with just a single website.
The central bookings administration within TourCMS has meant that having additional websites does not increase the administrative overhead.
Feedback from Uncover the World
"We looked at a number of packages before selecting TourCMS but none had the depth and breadth of functionality that TourCMS has. Many of them sell at £10-15,000 (US$16,000 to 24,000) which takes them out of our budget. We like TourCMS so much we are now buying more licenses to power additional websites to help us with our niche marketing."

"We don't need to outsource webwork (creating/editing), as it can be done by any member of staff, which gives us a lot of flexibility if we want to 'tweak'a page, or adjust a price. This saves us time and money."

"TourCMS has hugely reduced our paperwork, and the time it takes us to handle a clients holiday booking. Our staff are much happier with their booking tracking and general office procedures than with our previous system."

"We issue restricted access logins to our suppliers and staff around the world so they have constant access to the client and booking information we need to provide them with. They also add notes and flags on bookings themselves to inform us of confirmations and changes to itineraries etc. Having this all recorded in one place is very useful when reviewing the progress of a booking."

"I like the fact that a couple of our suggestions for extra functionality have been incorporated into the software, and that our support contacts at Travel UCD obviously understand the travel and tour operating business thoroughly, as well as the software itself" - Ralph Foulds, Operations Director (UK).