home > support > web design > wordpress plugin > themes
WordPress Themes
Any existing WordPress theme will be - at least partially - compatable with the TourCMS WordPress Plugin, this is due to an inherent feature of WordPress called Template hierarchy. Template hierarchy means that WordPress will use as specific a template file as it can find for a particular page, if it can't find a specific template then it will fall back to a more general template - perhaps using a standard "Page" template to display a "Tour/Hotel".
If you are interested in reading more on template hierarchy, or to learn how to customise an existing theme for better integration with the TourCMS plugin please see our WordPress theme development reference page.
Free WordPress Themes
The following themes come in two parts, the first part is an existing theme created by a third party developer / designer, the second part is a child theme created by the team at TourCMS to extend the original theme to work more closely with the TourCMS WordPress plugin.
You must install both the main theme and the child theme in your WordPress install, once both are installed just choose the child theme.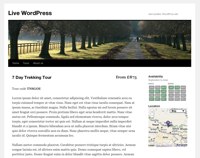 Twenty Ten
The 2010 theme for WordPress is stylish, customizable, simple, and readable — make it yours with a custom menu, header image, and background.
Main theme by the WordPress Team
You should already have Twenty Ten installed, it is the default theme in WordPress 3.0/3.1
WordPress Plugin basics
WP Plugin reference
Related links